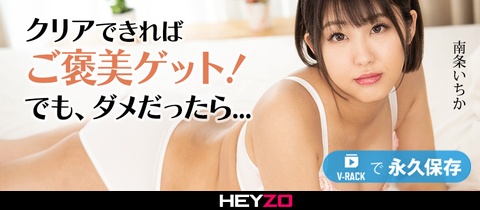 Item
Content
Official HP
http://en.heyzo.com/index2.html
Summary
"HEYZO" is a Japanese porn site that is now the most momentum. As a feature of HEYZO, very beautiful Japanese women has appeared and, it has a commitment to creampie for that beauty. You can enjoy creampie almost all porn videos that has been delivered in "HEYZO". All porn videos in "HEYZO" are very high image quality such as Full-HD. Because it is uncensored and full high-definition, you can clearly watch the cum flowing out from their pussy. Perhaps, if you have watched just ordinary porn DVD, we think you've never seen such porn videos.
More importantly, it is organized around the original works that are found only here in HEYZO. In other words, as well as free porn sites, high-quality uncensored erotic videos that can not be seen in other porn sites, you can watch only in HEYZO. In particular, it is impressive to be seen on the big screen TV. Such as mistaken as the Blu-ray Disc movies, such a high quality.
On the other hand, weakness of HEYZO is relatively young site, opening in 2012, and the number of porn videos is about 1,000, relatively smaller than other sites. However, smartphone member was started at $24 a month, it is cheap compared with other Japanese porn sites (but smartphone member is only in Japanese site)
HEYZO is recommended porn site for beginners of Japanese porn sites and creampie lovers. If you have never seen a high-quality porn videos par with full high-definition, to such people, certainly once we want you to taste the quality of HEYZO.
Features

All porn videos are high quality and uncensored
You can enjoy creampie in all porn videos
The server is a high-function, you can enjoy streaming playback stably. Streaming playback also kindly designed such can play from a favorite scene
High Definition quality (Full HD: 1920 × 1080px)
It is also compatible with any smartphone or tablet PC. In night, you can enjoy sneak using smartphone in the bed (But only Japanese site supports smartphone)
Downloaded porn videos are out of parental control (No DRM), so you can enjoy porn movies as many times as you want after withdrawal
It supports streaming playback, no upper limit of playback

Drawback / Disappointed point

The number of porn videos is a fewer because of young site

Safety evaluation
Join page of HEYZO is encrypted with SSL, it has also been firmly posted cancellation page. It also offers contact page further FAQ. HEYZO is equipped with a sufficient support system as porn site. Although HEYZO is still young porn site, but I think there is no problem in safety.
The number of porn video
Over 1,000 (Feb 2016)
Update frequency
About 1 porno every day
Free porn videos
If you want to watch in "HEYZO", Click Here. Without need of free membership registration, you can enjoy streaming almost all of free porn videos.

 

If you want to see the free porn videos that are posted on this site, Click Here

Fee
Only USD settlement is accepted. All Japanese porn sites that are introduced in our site are a complete fixed fee system. Since there is no additional charges, please do not worry.

| | | |
| --- | --- | --- |
| Plan/Duration | Fee | Remark |
| 1month | $48 | Nothing |

Credit card
Accepted credit cards are VISA, MasterCard, JCB and DinersClub.


Creditcard Settlement Agent Company
The credit card settlement agent company is KINGSUMMIT,INC. which has a lot of experiences and actual results. It is described "KINGSUMMIT" in the credit card statement. Because porn site names are not listed, you do not have to worry about if known to the family.
Streaming play
Supported, Playable indefinitely
Download limit
Download limit per day is 6GB. Of course even after withdrawal, porn videos downloaded can be played anytime.
File format
The downloaded file is mp4 format. Android smartphone and Windows users can play without any problems with Windows media player 12. Of course downloaded porn files are DRM Free, you can enjoy the downloaded porn files even after withdrawal.
Smartphone and Tablet
In HEYZO, it also provides smartphone-enabled sites. However, Only Japanese HEYZO site does correspond. In addition, smartphone one month membership fee is 2,400 yen (about $ 20) in HEYZO. The beginner have never used Japanese porn sites, I think that good to start from around this smartphone member. Screenshot and link of the smartphone site in HEYZO is the following images. And even a smartphone site, it does not change the high-quality. The uncensored erotic videos with high-quality full HD can be enjoyed in the palm of your hand of the smartphone. Why do not you feel free to try.

NOTE : The image below is linked to Japanese version of HEYZO. If you click it by your smartphone, you will go to the mobile site.

Join page link
You can join in landing page "Sign Up" button.

It is ready to join if you have a credit card (or debitcard) and e-mail address. You will be able to use your user ID and password as soon as you've completed your sign up.

Cancellation page link
Cancellation page is below the Join page, Click Here. There is "KINGSUMMIT Cancellation" button.

You can easily withdraw with "USERNAME" "PASSWORD" and "E-MAIL ADDRESS". You must cancel your membership at least one day before your next billing cycle to avoid automatic recurring charges. You will receive confirmation e-mail when you complete the process. After you have cancelled your account, you will still have access to the site until your membership period expires.

FAQ link
FAQ link of "HEYZO", Click Here
Contact US
If you want to contact with respect to HEYZO, Click Here
Notes
Because it is automatic renewal scheme, you would have been member automatically, if you do not take the withdrawal procedure.